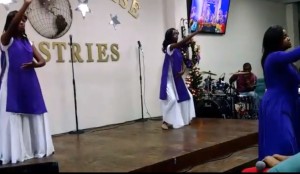 The Dance Ministry at Priestly Praise is excited about going to the next level!  Praise dance is worship to God.  The Bible tells us: "Whatever you do, do it enthusiastically, as something done for the Lord and not for men."  (Colossians 3:23 HCSB)
On Wednesdays from 6:00 a.m. through 10:00 a.m., the Dance Ministry joins the praise team by fasting.  Fasting is more than just not eating food.  We refrain from eating candy, staying off Facebook, Twitter, Pinterest, Instagram and all other social media sites, taking a vow of silence.
Please be mindful of attendance, tardiness and poor communication.  Please provide at least 24 hours' notice if you cannot attend rehearsal, event, church performance, etc.  
Rehearsals are every 1st and 3rd Saturdays at 9:00 a.m.   Every Saturday 2-3 dancers will rehearse with the praise team at 11:00 a.m.
Uniforms may be purchased from www.mypraisedancewear.com.  Items may also be purchased from "Head Over Heels Dancewear" located at 1656 Legion St. in Tallahassee, FL.  Phone 850-224-5140.